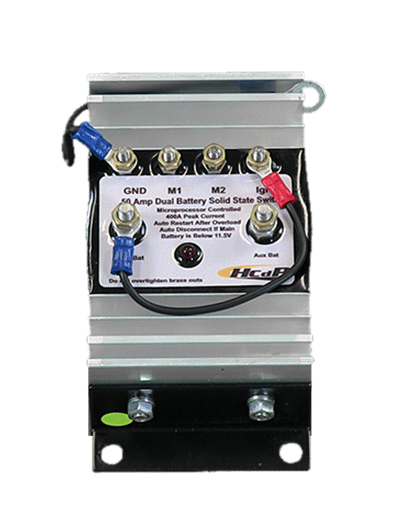 Dual Battery Solid State Switch (50Amp)
This Dual Battery Solid State Switch is a great way to charge your dual batteries in your 4WD, boat or camper trailer. This unit is capable of carrying up to  50 Amps to your dual batteries during traveling and with a voltage regulator this unit will only charge when your vehicle is running preventing you from draining your starting battery when parked.
Dual Battery Solid State Switch Features
50 Amp continuous rating with intermittent capability of 400 Amp
Intelligent microcontroller operation
Full short circuit protection
Over current trip with auto reset
Automatic switch ON when vehicle voltage is more than 12.8V
Automatic switch OFF when vehicle voltage is less than 12.8V
No moving parts to wear out
No contacts that could burn
Turn ON timer automatically adjust turn ON time dependent on battery voltage
Dedicated battery monitor output terminals
Weatherproof
Can be mounted in the engine compartment
Integrated load dump protection
Technical Specifications
| | | |
| --- | --- | --- |
| input voltage | : | 9VDC to16VDC (12VDC nominal) |
| Continuous current | : | 50 Amp +/-10% |
| Voltage drop | : | 0.15V typically at 20A |
| | : | 0.40V maximum at 50A |
| Short circuit shutdown current | : | Approximately 400 Amp |
| Under voltage switch OFF | : | Ignition <12.8V for >2 seconds |
| Turn ON delay | : | 5 seconds for Ignition > 13.8V |
| | : | 60 seconds for Ignition between 12.8V and 13.8V |
| Over current turn OFF time | : | 10 seconds before auto turn ON again |
Warranty
This product will be replaced or repaired if a failure occurs within one year, from the date of purchase, as a result of faulty materials or workmanship provided that the product is returned with proof of purchase. Replacement or repair shall be at the discretion of the manufacturer. This warranty excludes failures which results from misuse of the product. The manufacturer and/or seller shall not be held liable for personal injury or consequential damages that may result through the use of this product.Lightning damage is excluded from this warranty.